Skip to content
Director / Playwright / Dramaturg / Academic
Edited by Greg Homann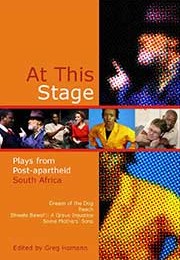 The four plays in this collection, by Lara Foot, Mike van Graan, Motshabi Tyelele and Craig Higginson, offer insights into an emerging national identity. The primary themes explored in the four texts – reconciliation, matriarchy, justice, accountability, corruption, truth, memory, and violence – reflect on the challenges and questions South Africans are confronted with in their nascent democratic state.
Wits University Press
"In terms of Mamet's definition, the four plays in At This Stage might still, to an extent, be described as moral pieces, in that they try to grapple with 'issues' facing contemporary South African society, such as violence, crime, and justice. Three out of the four plays highlight encounters between white and black and deal with conflict between races, while the other (Shwele Bawo!) concerns the issue of the abuse of women." – Anton Krueger in Heritage of Violence: Paradoxes of Freedom and Memory in Recent South African Play Texts
In the two essays that complement this anthology, theatre director Greg Homann argues that South African theatre and her playwrights have surfaced into a new period, one that signals new themes and challenges. The mode of representation has shifted and the monological form we came to both loathe and love has dissipated to match a democratic society grappling with multiple points of view.
Reach! by Lara Foot is a story of trying to connect. Two South Africans from different generations reach out across conflicting experiences and racial lines in an attempt to reconcile their shared past.
Some Mothers' Sons by Mike van Graan questions the success and failure of the South African criminal and justice system. Vusi and Braam, two lawyers and friends, negotiate their experiences of apartheid violence and post-apartheid criminality.
Shwele Bawo! by Motshabi Tyelele is a one-woman play detailing how wife and mother, Dikeledi Nkabinde, has found herself locked-up for the murder of her Black Economic Empowered husband.
Dream of the Dog by Craig Higginson is set on the eve of Richard and Patricia Wiley's departure from their KwaZulu-Natal farm. A series of interactions that challenge notions of truth, revenge, memory, and justice unfold when a familiar visitor arrives.